Top 10 Must Have WordPress Plugins for Your Blog
Essential wordpress plugins
With over 24% of the web powered by WordPress, it's one of those things that is quite literally sweeping the Internet. And with WordPress' next goal of turning that 24% into 50%, it's clear that WordPress is all the rage. So what really are the best essential wordpress plugins available?
With so many people out there looking to start a blog and to build a more functional sustainable site with WordPress, more and more folks are looking for easier ways to handle the essential wordpress plugins.
With so many people out there looking to start a blog and to build a more functional sustainable site with WordPress, more and more folks are looking for easier ways to handle the essential wordpress plugins.
That's where WordPress Plugins come in handy.
These handy little additions can do wonders for a blog, and some of WordPress plugins are so widely used that they have millions of downloads.
I've put together a list of 10 of the best essential wordpress plugins on the WP Plugins Directory to shine some much deserved light on plugins that are reaching for the top. Each of these bad boys currently has over 1 million active installs, and they're ready to make a new home on your WordPress blog, too.
10 most downloaded free plugins (with over 1 million downloads).
essential wordpress plugins
Top 10 (Free) Most Downloaded WordPress Plugins
Essential wordpress plugins
There is a lot to love about the JetPack plugin, making it another must have WordPress plugin.
Instead of going in search of a whole bunch of other plugins, Jetpack has a sort one-and-done idea that it is built on.
There are over 30 modules that you can activate to help you run a tighter faster ship:
Related Posts
A picture CDN know as Photon
Site Stats
And quite a few more. You'll need a WordPress.com account to use and connect the blog plugin to your site, but it's well worth the extra step.
Woo Commerce is the WordPress blog plugin that revolutionized eCommerce plugins for WordPress.
It took the more difficult aspects of creating and running an online store with WP and made it about as easy as humanly possible.
Though it does take some learning, the ease of use and the many other plugins and companies that support the plugin add a lot to its popularity.
A house might have deadbolt, but that won't keep a thief from breaking in.
Similarly, your WordPress site may be locked behind a slew of passwords, but that's not the best form of security.
Many people recognize the need to add security measures to their site and that's why so many flock to Wordfence. The security Word press plugin allows features like blocking malicious networks, scanning for vulnerabilities, monitoring various metrics that could make your site more open to attack, and much more.
It's no wonder so many people use this WordPress plugin in their blog.
Ah, comment spam. Don't you just love that stuff?
Those pesky little emails and junk mail that come flooding in at every turn are just so much fun…. Sarcasm aside, spam really is very irritating. And spam comments in WordPress are the most irritating of all.
If you want to save yourself a serious headache, then Akismet is the must have WordPress plugin.
This blog plugin helps stave off comment spam and even has the ability to delete all the junk comments on its own so you never have to even see those digital vermin.
Believe it or not, even if you've done everything you can to optimize your posts for SEO, your site itself might be what is causing the biggest issues for it not ranking…
The likely solution?
A sitemap.
And the Google XML Sitemaps plugin is one of the top WordPress plugins for giving your site just what it needs. By creating an XML sitemap, your site is much easier for Google to crawl and read, thus helping your site rank higher.
If you haven't noticed, my Contact me page has a contact form. I didn't code it nor did I design it. I just used the Contact form 7.
It's a very simple and essential WordPress plugin for creating different types of contact forms. In contact form 7, you will be able to add different forms and give them names. You can also make some of the boxes as "required" with this plugin, for example the email address or phone number box. No need for special CSS coding.
The WordPress plugin integrates into a post or page by the use of shortcodes, and you can pretty much customize the input forms and drop down menus as to say whatever you like.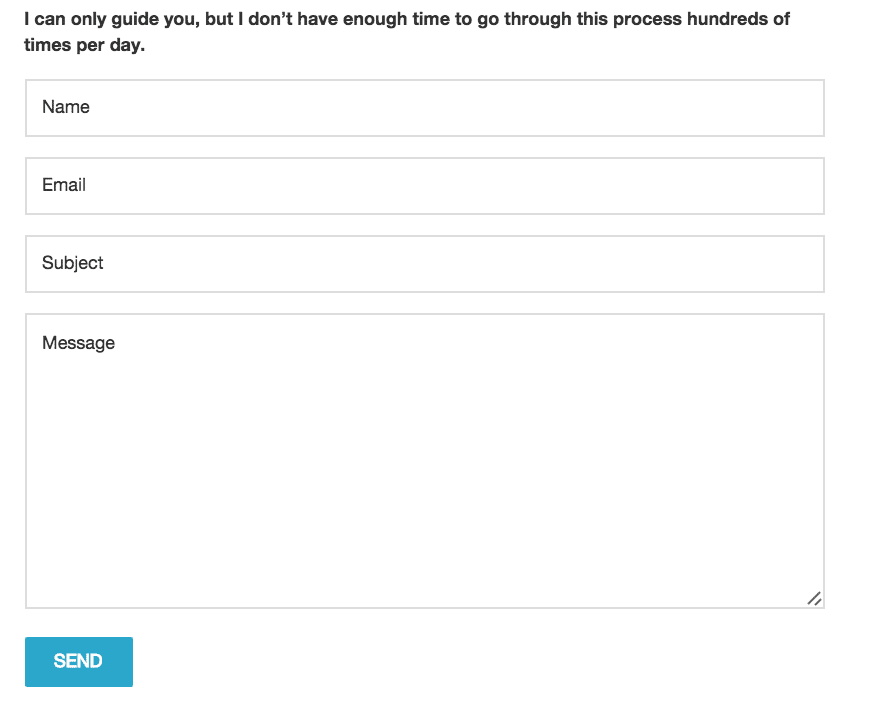 You know it, I know it:
SEO is a big deal.
And even though a lot of what we know about what SEO is has changed, a lot of things have stayed important — like creating content that is optimized for Google search.
However, creating that content correctly can be of a hassle if you don't know what you've done right and what you've done wrong.
That's where the Yoast SEO WordPress plugin comes in.
Instead of being left to guess if you've optimized your content correctly, the plugin helps you every step along the way. And if you use this one, you can skip the extra XML sitemap plugins, because Yoast takes care of that too.
Every tried and true online entrepreneur seems to know and understand the need for a fast and reliable website.
Caching a WordPress site is something that is good for providing both of these.
One reason why this belongs to our list of best WordPress plugins is because of it being easy to use and setup. Just install, activate, check a few boxes to configure the plugins and you're pretty much good to go!

Have you ever had that moment where you need to look at more than one browser tab and then feel suddenly overwhelmed with what feels like screen overload?
Yeah… We've all been there.
When you're running an online venture, there are a lot of things you need to check on to keep a tight running ship like Google Analytics and your WordPress site.
But thankfully, the Google Analytics plugin by Yoast saves the need to open that extra browser tab.
Just install and setup the plugin, and you'll be able to view the analytics of your site right there in your WP dashboard.
Images are the great assets for your post/ page which easily grab the users' attention. Uploading images helps you deliver the message many times better that simply the texts can. They make your page look attractive, catchy and engaging.
While being so helpful to make you site more appealing to users, images also take up a lot of storage space and slow down your website. You can't simply afford to ignore the slow site speed and look for the disaster to happen. Wait a while, here's good news – you can compress images!
Yes, you can compress and optimize the images without reducing the quality of the images using WP Smush plugin. It optimizes all of your image files in JPEG, GIF and PNG formats using advanced compression techniques and saves lots of storage space. It auto-smushes all your attachments on upload while you can also smush your attachments manually in the media library.
In addition, the plugin lets you smush bulk data (up to 50 attachments) at a time. The plugin is very useful as it helps your post/page look attractive while being fast.
Wrapping up
And they were best WordPress plugins that every website needs in my view. As stated above, these plugins provide the basic features, improve the site SEO, optimize speed, harden security and help to market your content and products in a better way.
If you are already using them, write your feedback in the comment box below.
Did I miss any plugin that you think is essential too? I would appreciate if you suggest me any essential wordpress plugins.